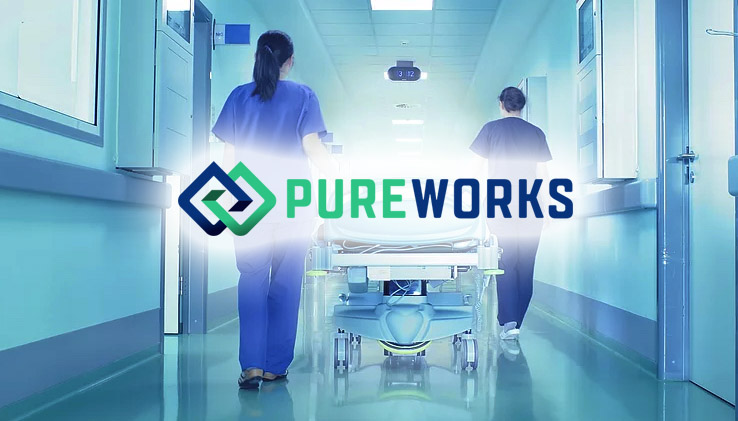 PureWorks puts the purifying power of UVC LED disinfection to work. Our easy-to-use germicidal technologies annihilate harmful viruses and bacteria from handheld items to create safer shared environments. A trusted American manufacturer, PureWorks designs products that are proven effective and effortless to use in diverse settings including healthcare, education, and at home.
The UVC Disinfecting Cabinet decontaminates contents from harmful viruses and bacteria to provide a safe environment wherever items are shared. Vigorous independent virology lab testing shows the cabinet's UVC LED modules destroy even the most resilient contaminants including SARS-CoV-2, MRSA, H1N1, Staph and other deadly transmissible viruses. By leveraging the latest LED technology rather than traditional mercury tubes, the cabinet offers an extended lifespan and environmentally friendly disinfecting solutions in the fight against HCAIs. This advanced science is made simple with intuitive operation and a rapid 60-second cleaning cycle. Get back to work worry-free with the PureWorks UVC Disinfecting Cabinet.
For more information, contact us at sales@pureworks.us.
---
CONTRACT SUMMARY
Products:
LED UV-C Disinfection Cabinet
Price Protection:
Not to Exceed 5% per 6 Months
Shipping Terms:
FOB Point of Origin; Freight Prepaid & Added
Payment Terms:
50% Due with Order; Balance Due Upon Shipment
---
To view pricing you must be logged in as a MAGNET GROUP Facility Member.
Not yet a MAGNET GROUP Facility Member? Not sure?
Complete and submit a simple, no obligation Participation Agreement (PA) Form.
Do you need MAGNET GROUP GPO Designation Form?
Download Designation Form (PDF)