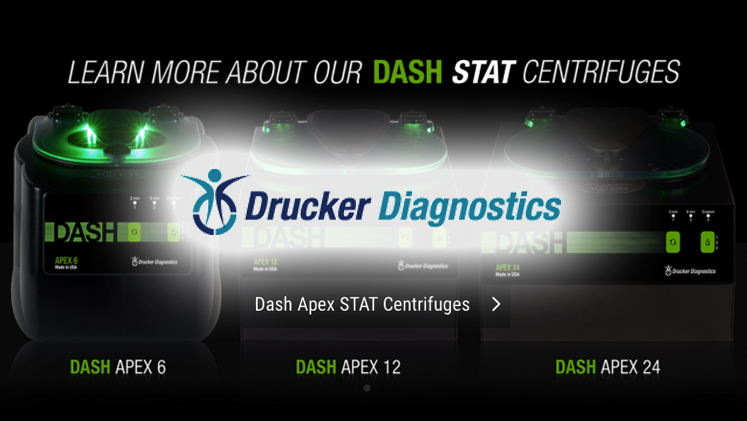 Drucker Diagnostics (#3085)
DRUCKER DIAGNOSTICS provides benchtop laboratory centrifuges for STAT and routine blood processing, urine analysis, outreach and mobile use. A centrifuge is a critical piece of equipment for scientists who are on the move, needing to run tests in the most remote locations. The manufacturing company in question was founded in 1932, DRUCKER DIAGNOSTICS designs, builds and supports all its centrifuges at its headquarters in Pennsylvania, USA. Today, more than 75% of blood samples collected in physicians' offices and patient centers are processed in DRUCKER DIAGNOSTICS centrifuges and a DRUCKER DIAGNOSTICS centrifuge is used to help monitor the health of astronauts on the International Space Station. Designed with simplicity and ease of use in mind, DRUCKER DIAGNOSTICS centrifuges streamline training by standardizing controls and increase operational efficiency with a single support contact and a streamlined set of spare parts. All these factors combine to deliver a significant cost and time savings alongside the convenience of a centrifuge product line built to meet sample processing needs across the IDN. DRUCKER DIAGNOSTICS centrifuges are easy to choose, easy to use, built to last and a great value.
---
CONTRACT SUMMARY
Products:
Clinical Centrifuges
Price Protection:
Prices FIRM through 2020
Shipping Terms:
FOB Destination; Freight Prepaid
Payment Terms:
Net 30 Days
---
To view pricing you must be logged in as a MAGNET GROUP Facility Member.
Not yet a MAGNET GROUP Facility Member? Not sure?
Complete and submit a simple, no obligation Participation Agreement (PA) Form.
Do you need MAGNET GROUP GPO Designation Form?
Download Designation Form (PDF)