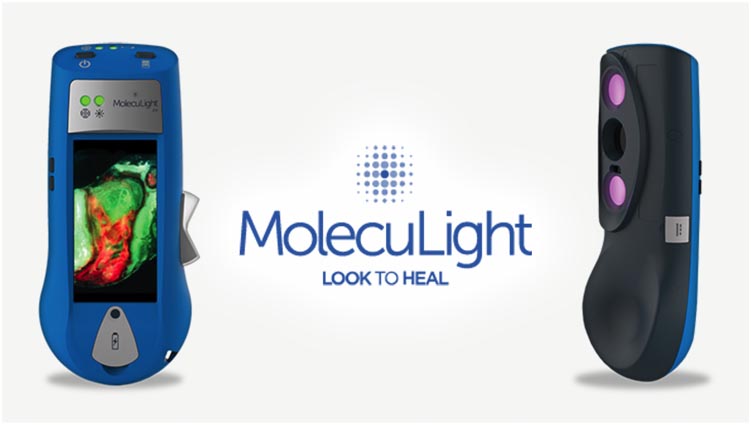 The MolecuLight i:X® introduces real-time diagnostic imaging to wound care. The hand-held MolecuLight i:X device enables visualization of clinically significant (>104 CFU/g) loads of bacteria and provides digital wound area measurement at point-of-care. The i:X uses fluorescence imaging to enhance wound assessment by targeting treatment to the location of bacteria.
MolecuLight i:X provides point-of-care diagnostic information about bacteria in wounds supporting clinical decision-making along the wound care pathway, including:
·      Improving the assessment of wounds for the presence of bacteria (>104 CFU/g)
·      Performing targeted sampling
·      Guiding selective, targeted debridement
·      Monitoring wound bed preparation prior to skin grafts and dermal templates
·      Guiding antimicrobial stewardship and treatment selection decisions
·      Documenting wound progress with wound size and fluorescence indicating bacteria
The MolecuLight i:X is perfectly suited for all wound care settings – in-patient, out-patient including wound centres, burn and trauma units and long-term-care — and for all wound types, including diabetic foot ulcers, pressure ulcers, venous foot ulcers, surgical site infections and burns.
Visit www.moleculight.com to learn more or contact myannessa@moleculight.com to arrange a demonstration.
---
CONTRACT SUMMARY
Products:
MolecuLight "real-time fluorescence wound imaging for bacterial presence, location & load"
Price Protection:
Full Term of Agreement
Shipping Terms:
FOB Destination; Freight Prepaid
Payment Terms:
Net 30 Days
---
To view pricing you must be logged in as a MAGNET GROUP Facility Member.
Not yet a MAGNET GROUP Facility Member? Not sure?
Complete and submit a simple, no obligation Participation Agreement (PA) Form.
Do you need MAGNET GROUP GPO Designation Form?
Download Designation Form (PDF)