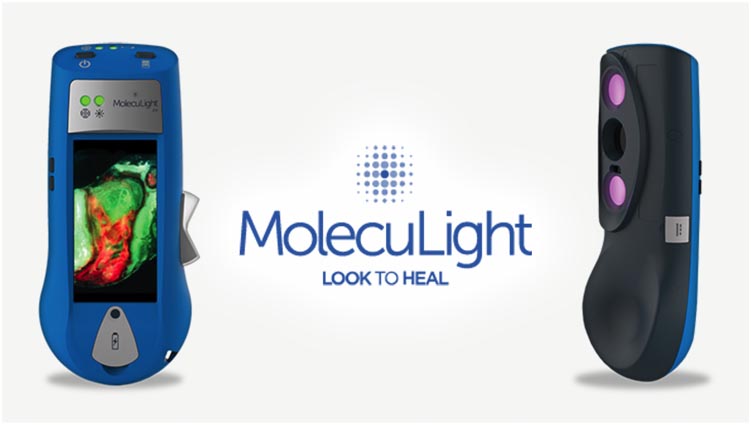 The MolecuLight i:X® introduces real-time diagnostic imaging to wound care. The hand-held MolecuLight i:X device enables visualization of clinically significant (>104 CFU/g) loads of bacteria and provides digital wound area measurement at point-of-care. The i:X uses safe fluorescence imaging to enhance wound assessment by targeting treatment to the location of bacteria.
MolecuLight i:X provides point-of-care diagnostic information about bacteria in wounds supporting clinical decision-making along the wound care pathway, including:
·      Improving the assessment of wounds for the presence of bacteria (>104 CFU/g)
·      Performing targeted sampling
·      Guiding selective, targeted debridement
·      Monitoring wound bed preparation prior to skin grafts and dermal templates
·      Guiding antimicrobial stewardship and treatment selection decisions
·      Documenting wound progress with wound size and fluorescence indicating bacteria
The MolecuLight i:X is perfectly suited for all wound care settings – in-patient, out-patient including wound centres, burn and trauma units and long-term-care — and for all wound types, including diabetic foot ulcers, pressure ulcers, venous foot ulcers, surgical site infections and burns.
REIMBURSEMENT of the MolecuLight Procedure:
The MolecuLight i:X is the only point-of-care device that allows fluorescence wound imaging for bacterial presence, location, and load. The reimbursement pathway for this procedure includes:
– Physician work through two CPT® codes (Current Procedural Terminology – Cat. III)
– Facility payment through an APC code (Ambulatory Procedure Classification) for HOPD setting
These CPT and APC codes were issued by the AMA and CMS, respectively, after critical review of the large body of supporting clinical evidence. Each recognized the medical necessity of this procedure. These CPT codes will be active on July 1, 2020.
Visit www.moleculight.com to learn more or contact myannessa@moleculight.com to arrange a demonstration.
---
CONTRACT SUMMARY
Products:
MolecuLight "real-time fluorescence wound imaging for bacterial presence, location & load"
Price Protection:
Full Term of Agreement
Shipping Terms:
FOB Destination; Freight Prepaid
Payment Terms:
Net 30 Days
---
To view pricing you must be logged in as a MAGNET GROUP Facility Member.
Not yet a MAGNET GROUP Facility Member? Not sure?
Complete and submit a simple, no obligation Participation Agreement (PA) Form.
Do you need MAGNET GROUP GPO Designation Form?
Download Designation Form (PDF)