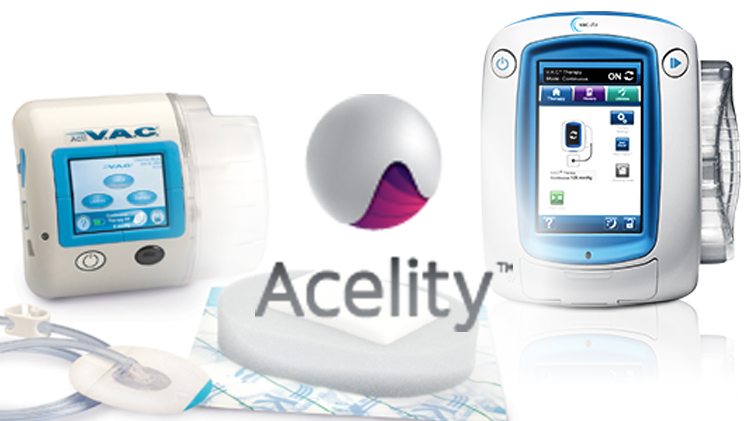 KCI USA (formerly Acelity) (#2275)
Acelity products fall into two categories:
Advanced wound therapeutics, including negative pressure wound therapy, negative pressure surgical incision management, and epidermal harvesting. Among our advanced devices and wound dressings are:
V.A.C.ULTA™ Negative Pressure Wound Therapy System, with V.A.C. VERAFLO™ Therapy, a negative pressure wound therapy system that also delivers topical wound solutions to and from a wound site
CELLUTOME™ Epidermal Harvesting System, which harvests small areas of epidermis for skin grafts for autologous grafting
PROMOGRAN™ and PROMOGRAN PRISMA™ Matrices, specialized dressings that help promote a moist wound environment conducive to wound healing
Regenerative medicine, encompassing regenerative and reconstructive acellular tissue matrices for repair of soft tissue defects, as well as autologous fat grafting solutions. Leading products include:
ALLODERM™ Regenerative Tissue Matrix for repair or replacement of damaged or inadequate tissue; often used in reconstructive surgery, burns, orthopedics and urogynecology
STRATTICE™ Reconstructive Tissue for reinforcement of soft tissue where weakness exists in the repair of hernias, and for reinforcement in plastic and reconstructive surgery
---
CONTRACT SUMMARY
AGREEMENT #2275
07/01/10 – 12/31/19
www.acelity.com
Products:
Wound Management Products
Price Protection:
Full term of agreement
Shipping Terms:
Distributor terms apply
Payment Terms:
Distributor terms apply
---
To view pricing you must be logged in as a MAGNET GROUP Facility Member.
Not yet a MAGNET GROUP Facility Member? Not sure?
Complete and submit a simple, no obligation Participation Agreement (PA) Form.
Do you need MAGNET GROUP GPO Designation Form?
Download Designation Form (PDF)