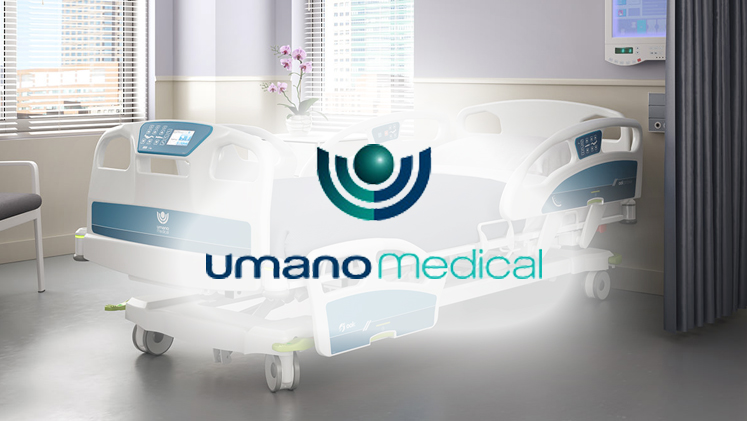 Umano Medical is a Canadian manufacturing company that offers the latest technologies through its low height hospital bed line.

The OOKSNOW offers excellence in the low height bed category and suits various environments – from MedSurg to Acute Care units. The bed is designed to maximize infection control, fall prevention and ease of use. Because of its value and performance, the OOKSNOW improves the well-being of patients and healthcare professionals.

The OOKSNOW/MH maximizes patient and staff safety in mental health environments. In addition to specific features, such as tamper proof fasteners and siderails without openings, the OOKSNOW/MH is designed to reduce ligature attachment points.

The OOKCOCOON is ideally suited to long term acute care environments. It offers built-in bed exit detection technology to maximize patients' safety and reduce falls.
Additional bed features also enhance patient autonomy and increase caregiver efficiency.
Umano Medical also offers a full range of support surfaces. From foam mattresses to powered or non-powered therapeutic surfaces, you will find the sizes and characteristics that fit your needs.
More on www.umanomedical.com
---
CONTRACT SUMMARY
Products:
Patient Beds for Acute Medical-Surgical, LTC, LTAC, Rehab and Mental Health Foam Mattresses for Pressure Reduction and Prevention
Price Protection:
Full term of agreement
Shipping Terms:
F.O.B. destination freight prepaid
Payment Terms:
Net 30 days
---
To view pricing you must be logged in as a MAGNET GROUP Facility Member.
Not yet a MAGNET GROUP Facility Member? Not sure?
Complete and submit a simple, no obligation Participation Agreement (PA) Form.
Do you need MAGNET GROUP GPO Designation Form?
Download Designation Form (PDF)
SaveSave
SaveSave
SaveSave
SaveSave
SaveSave