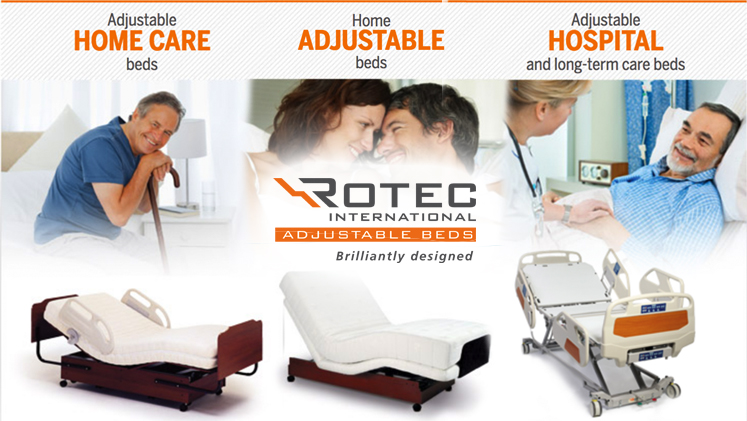 ROTEC International (#3465)
Founded in 1985, Rotec International is a designer and manufacturer of high quality medical beds. We have two factories, a research & development center and offices & warehouses in Canada & the United States. Our beds are distributed in Canada, the United States, Mexico, Latin America, Australia, New Zealand & the Middle East. Our team is accessible and connected to the reality of users & healthcare professionals. We are fully able to provide technical service and in-service support across all of the USA.
We are an international company on a human scale. We build for the long term, we don't aim to be the biggest but to be the best.
As we believe that fall prevention will reduce patient injuries, we manufacture the lowest bariatric bed with the highest capacity in the world. Our beds are patented. We also manufacture low and ultra low Med Surg beds. Not only will this reduce patient injuries but this will also facilitate the work of the nursing staff.
Rotec has developed specific products to meet the special needs of the most demanding customers. Rotec  International, brilliantly designed medical beds!
Download Video: Bariatric Ultra-Low Bed – VersaTech 1100 ULB
---
CONTRACT SUMMARY
Products:
MED-Surg Beds (Low Profile, Ultra Low Profile & bariatric)
Price Protection:
Full Term of Agreement
Shipping Terms:
FOB Destination; Freight Prepaid
Payment Terms:
NET 30 Days
---
To view pricing you must be logged in as a MAGNET GROUP Facility Member.
Not yet a MAGNET GROUP Facility Member? Not sure?
Complete and submit a simple, no obligation Participation Agreement (PA) Form.
Do you need MAGNET GROUP GPO Designation Form?
Download Designation Form (PDF)