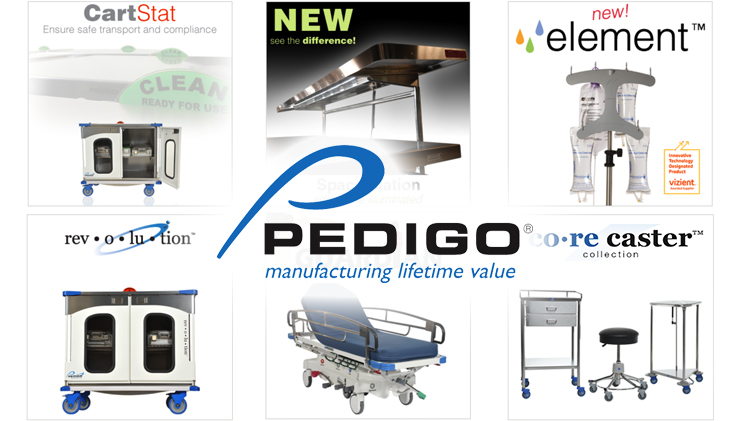 Pedigo Products, Inc. (#3785)
Pedigo Products was founded in 1947 by William R. Pedigo and his son Richard. The father-son team began manufacturing three-legged stools (the predecessor to the current P-36 stool) on their dirt floor garage in Burbank, California. The all-welded chrome plated stools were initially sold to local barbers and beauticians, but the Pedigo's soon realized that the real market for their product was in the expanding Southern California healthcare industry.
Pedigo's current product line consists of nearly two hundred items, including stools, instrument tables, I.V. stands, surgical case carts, exchange and distribution carts, bassinets and many other stainless steel and chrome items. Pedigo items can be found in the emergency rooms, exam rooms, operating rooms and sterile processing departments of the world's finest medical institutions.
Today, as Pedigo celebrates 71 years of service and three generations of family ownership, they continue to lead the way in product innovation and increased sterility control. Pedigo is committed to the success of their business and to the personal success of each and every one of their employees and sales representatives, that together comprise the "PEDIGO FAMILY".
---
CONTRACT SUMMARY
Products:
Physician Stools, Bassinets, Cabinets, Stretchers, Basin Stands, Warmers, etc.
Price Protection:
None
Shipping Terms:
FOB Destination; Freight Prepaid
Payment Terms:
Net 30 Days
---
To view pricing you must be logged in as a MAGNET GROUP Facility Member.
Not yet a MAGNET GROUP Facility Member? Not sure?
Complete and submit a simple, no obligation Participation Agreement (PA) Form.
Do you need MAGNET GROUP GPO Designation Form?
Download Designation Form (PDF)