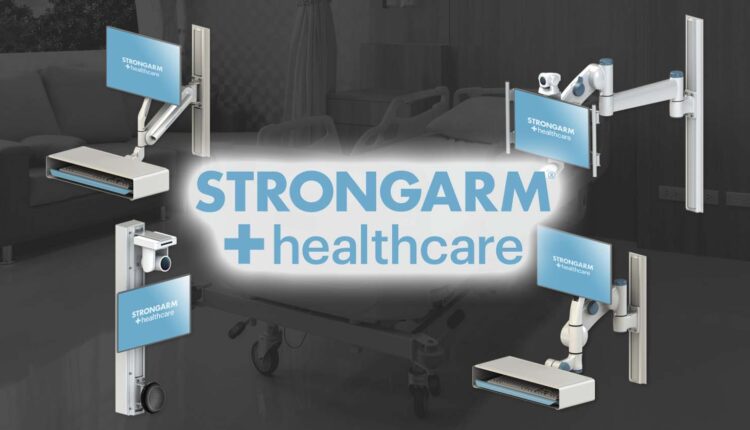 Strongarm Healthcare (#3939)
Strongarm Healthcare, a division of Strongarm, is a leading manufacturer of wall arm mounting systems, telehealth workstations, and medical device mountings for hospitals, healthcare, and point-of-care applications. Our cutting-edge, industrial grade healthcare products result from over three decades of design and manufacturing experience across multiple workplace environments and industrial applications. Our innovative products and healthcare solutions are designed and built in the U.S.A.
All Strongarm Healthcare products are manufactured and assembled in the United States. Located in suburban Philadelphia, Strongarm employs over 75,000 square feet of production, manufacturing, warehousing, and assembly space. Our centralized supply chain model allows us to control every aspect, from conceptual design to mass production. We utilize a robust MRP/ERP system to minimize costs and control all processes from procurement to on-time delivery. By manufacturing only robust and dependable healthcare solutions, we are able to offer our customers the only lifetime warranty in the industry, backed by a nationwide support network. Visit https://strongarmhealthcare.com for complete product features and specifications, or contact our sales team directly at sales@strongarmhealthcare.com.
---
CONTRACT SUMMARY
Products:
Customized Ergonomic Industrial Workstations
Price Protection:
None; Max Inc. not to exceed 5% per year
Shipping Terms:
FOB Destination; Freight Prepaid
Payment Terms:
NET 30; NET 10-2% Discount
---
To view pricing you must be logged in as a MAGNET GROUP Facility Member.
Not yet a MAGNET GROUP Facility Member? Not sure?
Complete and submit a simple, no obligation Participation Agreement (PA) Form.
Do you need MAGNET GROUP GPO Designation Form?
Download Designation Form (PDF)