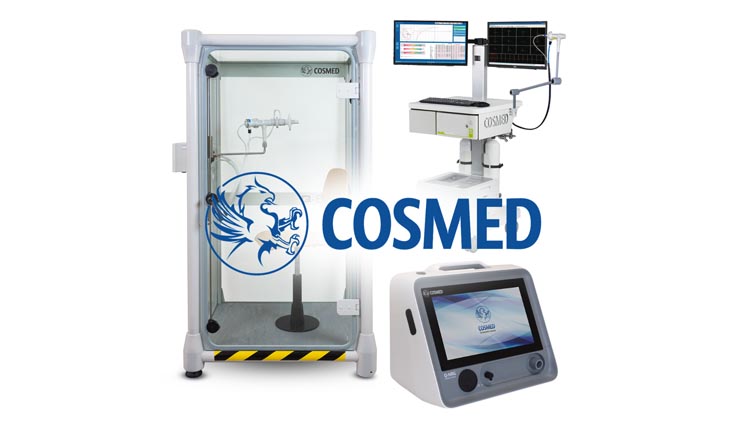 COSMED, designs, manufactures, and markets diagnostic medical devices worldwide to assess Pulmonary Function, Cardiopulmonary, Metabolic functions, and Body Composition, addressing the needs of Health Care providers, Research professionals operating in the Hospitals, Clinics, Sport Medicine Centers and Human Performance Laboratories.
Our main US operations are based in Concord, CA and Chicago, IL with customer support located throughout the US.
We distribute direct to MAGNET GROUP members. Our product portfolio is grouped into five main Product Lines:
Pulmonary Function Testing
Cardiopulmonary Exercise Testing
Indirect Calorimetry
Spirometry
Body Composition
COSMED's 40-year history of designing and distributing diagnostic medical technologies has led to product quality that exceeds expectations, control of our supply chain, and innovative products designed to improve patient outcomes.  It has allowed us to achieve:
Strong relationships with International Scientific CommunitiesA large customer base of Academic and Research Organizations that continues to provide innovating solutions to meet clinical medical needs
Continuous investment in R&D with the attainment of innovative international patents
More than 2,000 scientific articles in journals, testifying the use of our medical devices, making COSMED one of the most cited companies in the human physiology assessment research field
COSMED, has direct operations, through its fully owned subsidiaries, in Australia, Denmark, France, Germany, Hong Kong, Netherland, Switzerland, and USA, with over 80 Business Partners, covered more than 100 countries.
---
CONTRACT SUMMARY
Products:
Respiratory/Pulmonary Equipment & Supplies
Price Protection:
Prices Firm through 6/30/2023 – NOT to EXCEED 5% per Agreement Year
Shipping Terms:
FOB Destination; Freight Prepaid & Added
Payment Terms:
Net 30 Days
---
To view pricing you must be logged in as a MAGNET GROUP Facility Member.
Not yet a MAGNET GROUP Facility Member? Not sure?
Complete and submit a simple, no obligation Participation Agreement (PA) Form.
Do you need MAGNET GROUP GPO Designation Form?
Download Designation Form (PDF)