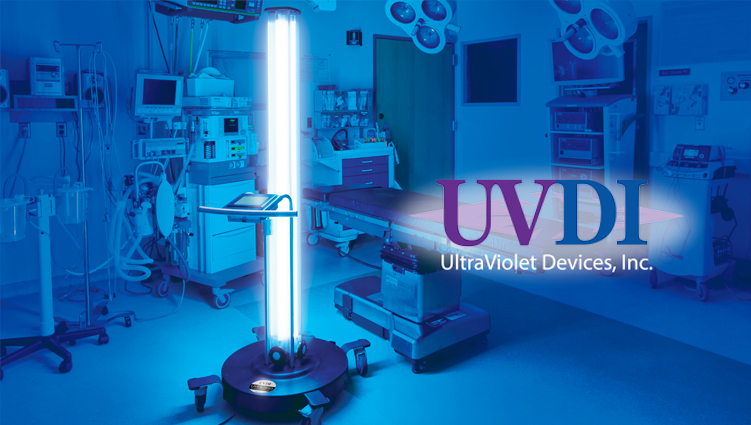 UltraViolet Devices, Inc. (UVDI) (#2485)
UltraViolet Devices, Inc. has designed and manufactured UV-C disinfecting solutions in the U.S.A. for over 70 years.  The UVDI-360 Room Sanitizer provides Advanced Ultraviolet Disinfection Simplified.  Proven to inactivate over 35 pathogens, including C.difficile and coronavirus in 5 minutes at 8 feet, and to help decrease Healthcare-Associated Infections in multiple published clinical studies, over 1,400 UVDI-360 Room Sanitizers are used in hundreds of hospitals spanning 25 countries.  Learn more at UVDI.com.  Request a Demo 844-777-UVDI.
Robots, UV, UV-C, disinfection, Ultraviolet, UVDI, UVDI-360, UV light, C.difficile, C.diff, UV device
---
CONTRACT SUMMARY
AGREEMENT #2485
10/01/13 – 01/31/24
www.uvdi.com
Products:
UV Surface Disinfection Systems
Price Protection:
Prices firm through 09/2014 10/2014-09/2016 – not to exceed 5%/year
Shipping Terms:
FOB destination; freight prepaid & added
Payment Terms:
Net 30 days
---
To view pricing you must be logged in as a MAGNET GROUP Facility Member.
Not yet a MAGNET GROUP Facility Member? Not sure?
Complete and submit a simple, no obligation Participation Agreement (PA) Form.
Do you need MAGNET GROUP GPO Designation Form?
Download Designation Form (PDF)