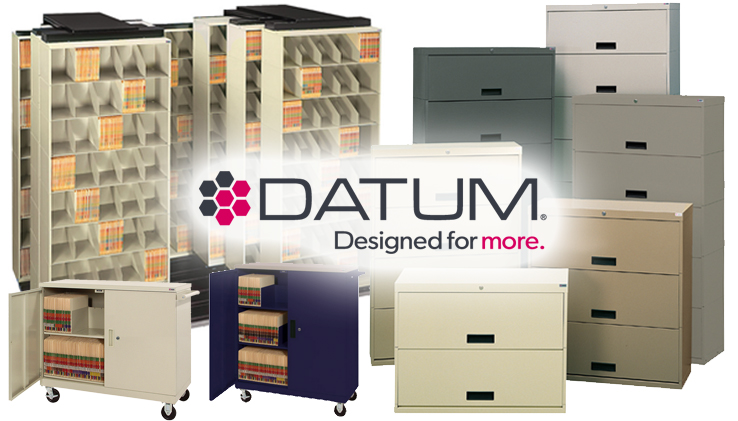 Datum Storage Solutions (#3775)
Datum Storage Solutions provides quality, durable storage solutions to assist healthcare employees in improving patient care by maximizing storage capacity and creating safe, efficient workspaces. Owned and operated by the Potter family since 1968, Datum's team of in-house engineers, designers, and skilled craftsmen has manufactured storage solutions for over 40,000 companies worldwide. Datum's products are made in York, Pennsylvania, with high-quality, environmentally friendly materials and processes. Every product is backed by Datum's exclusive Lifetime Warranty-the best in the industry.
Datum's products are designed to offer the flexibility necessary to evolve and grow with storage needs, thus saving the time, money, and space needed to protect high-quality care within the healthcare industry. Products include secure office filing systems for record-keeping, personal lockers for staff areas, and high-density and 4Post shelving systems for equipment, medical supplies, pharmacies, and custodial storage.
For more information visit: bydatum.com or contact sales@datumstoraqe.com
---
CONTRACT SUMMARY
Products:
Storage Solutions: Data, Files, Mail Room, High Density Shelving, etc.
Price Protection:
Not to Exceed 5%/year Per Year
Shipping Terms:
FOB Destination; Freight Prepaid
Payment Terms:
1% 10 Days, 1/2% 11-29 Days, Net 30 Days
---
To view pricing you must be logged in as a MAGNET GROUP Facility Member.
Not yet a MAGNET GROUP Facility Member? Not sure?
Complete and submit a simple, no obligation Participation Agreement (PA) Form.
Do you need MAGNET GROUP GPO Designation Form?
Download Designation Form (PDF)