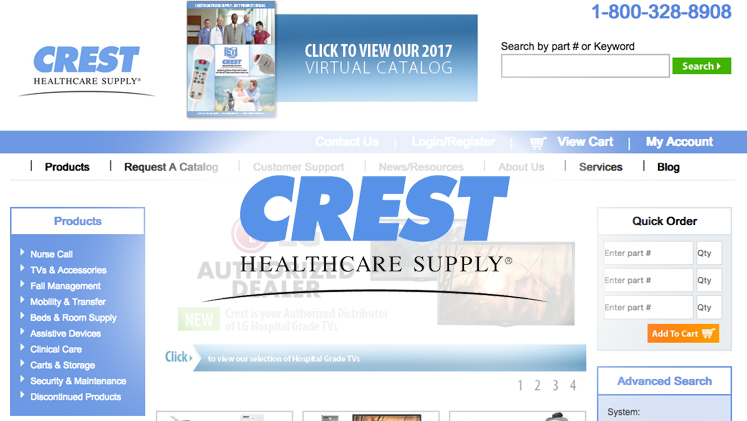 Crest Healthcare Supply (#1682)
Crest Healthcare Supply is celebrating 50 years of service in the healthcare industry. Built on delivering friendly and knowledgeable customer service with reliable products, Crest's mission is to enhance the environment of care for those in need and those who care.
"Crest Electronics" was founded by Howard Page in 1967 when he purchased the rights to a nurse call product line owned by IBM. The company grew in size and reputation and quickly started manufacturing replacement parts for nurse call systems. His vision was to support systems which provided quick, easy communication between caregiver and patient. Replacement parts for nurse call systems filled a unique niche and provided cost savings for customers. As the healthcare industry evolved, so too has Crest. Crest Electronics is now known as Crest Healthcare Supply. Over the last 50 years, Crest has developed new products, business partnerships and continues to provide cost effective solutions. Our manufactured products help reduce operating costs and extend the life of nurse call systems, while the products we distribute are high volume, durable medical products.
Working together to guarantee a quality experience, Crest employees strive to find and create innovative solutions to help those working in facilities which help people in need of care. We are extremely honored our customers continue to place their value and trust in our products to meet their healthcare product needs. Crest Healthcare Supply will continue to provide innovative and cost-effective solutions to meet the evolving needs of caregivers and those in need of care.
---
CONTRACT SUMMARY
Products:
Nurse Call, Bed & Room Supply, Mobility & Transfer, Interior Decor, Lighting, Therapy, TV Access., Carts, Racks & Storage, Assist Devices, and Fall Management
Price Protection:
None
Shipping Terms:
FOB origin; freight prepaid & added
Payment Terms:
Net 30 days
---
To view pricing you must be logged in as a MAGNET GROUP Facility Member.
Not yet a MAGNET GROUP Facility Member? Not sure?
Complete and submit a simple, no obligation Participation Agreement (PA) Form.
Do you need MAGNET GROUP GPO Designation Form?
Download Designation Form (PDF)