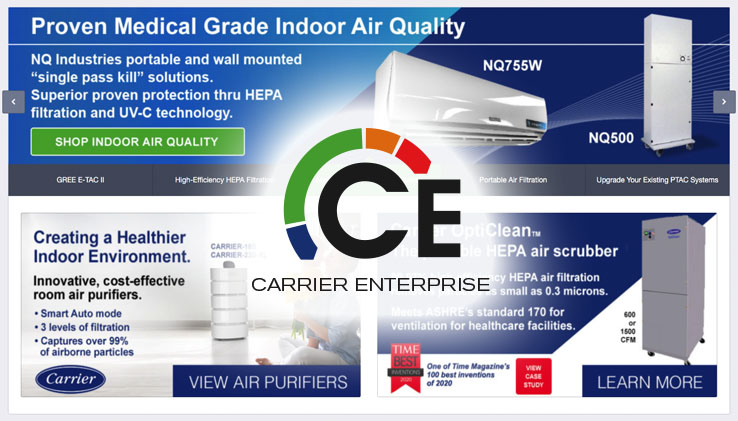 Carrier Enterprise (#3835)
Carrier Enterprise (CE) is a distributor of HVAC equipment, parts and supplies with access to over 1.9 million items. We distribute direct to MAGNET GROUP members with HVAC engineering teams and to selected MAGNET GROUP member contractors of choice. CE may also provide member selected contractors with equipment, parts and supplies at MAGNET GROUP preferred pricing levels to promote cost transparency and report sales under the MAGNET GROUP agreement.
We help our clients manage their HVAC related expenses in multiple ways. Some examples include:
• Ease of ordering is one of our key strengths. Clients can order on-line at www.cenationalaccounts.com  or over the phone with one of our branch offices. Our Mobile app allows users to research product, check availability, and order on-line.
• Availability is another advantage CE offers our clients. With access to over 1.9 million products, our clients count on us to have their essential items. CE will work with individual members to identify critical parts and add those products to their hot list.
• Carrier Enterprise will also negotiate directly with manufacturers to obtain price discounts based on member purchases under the MAGNET GROUP program.
---
CONTRACT SUMMARY
Products:
HVAC Equipment & Products
Price Protection:
None
Shipping Terms:
FOB Point of Origin; Freight Prepaid on Orders > $50
Payment Terms:
NET 30 Days
---
To view pricing you must be logged in as a MAGNET GROUP Facility Member.
Not yet a MAGNET GROUP Facility Member? Not sure?
Complete and submit a simple, no obligation Participation Agreement (PA) Form.
Do you need MAGNET GROUP GPO Designation Form?
Download Designation Form (PDF)