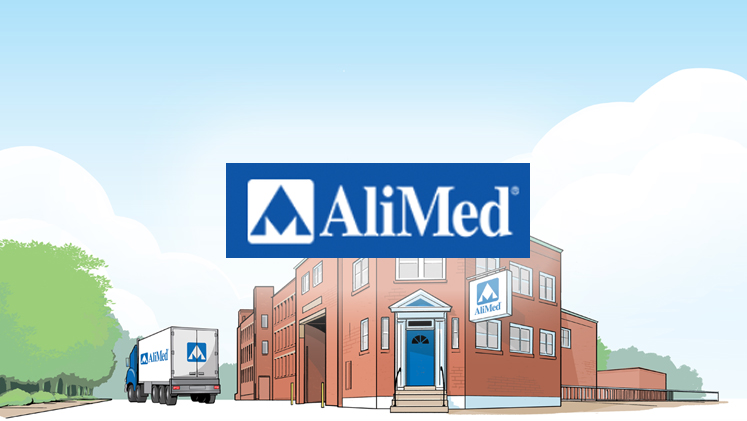 AliMed is a leading provider of medical, healthcare and ergonomic products serving all segments of the healthcare market including hospitals and clinics, nursing homes and long-term care facilities, private medical practices, therapists, and more. With the most comprehensive range of trusted products and top brands available, we provide "one stop shopping" access to the best value and selection. Easily shop all of our solutions online and in-stock items are available for "same-day shipment".
For over forty years we have been manufacturing and supplying high-quality products and supplies through our catalogs and website — everything from operating room supplies and equipment, patient handling solutions, patient safety and fall management products, staff safety and infection control solutions, wheelchair cushions, diagnostic imaging supplies, radiation protection, rehabilitation equipment, orthopedic splints and braces, and ergonomic workplace solutions.
Unlike most manufacturers who just sell their own products, AliMed also sells a wide range of top-quality items from thousands of other leading medical, healthcare and ergonomic brands. This is done to help ensure that our customers can find the solutions they need. Where products don't exist for specific needs, AliMed's innovative Research & Development team often designs and develops new items. In fact, we are known for our cutting-edge solutions to specific medical and ergonomic needs.
Our selection of solutions is continually updated and expanded and we now distribute over 70,000 products to healthcare facilities and businesses worldwide. Our commitment to you is a goal of 100% customer satisfaction. That means making it easy for you to get the products you need, when you need them and then standing firmly behind them to ensure complete satisfaction.
---
CONTRACT SUMMARY
AGREEMENT #9104
03/01/04 – 12/31/23
www.alimed.com
Products:
Patient Care and Rehabilitation Products, Infection Control Products, O.R. Table, Pads & Straps, Radiology Accessories, or Accessories, (ALL AliMed Products)
Shipping Terms:
Freight Schedule:  All orders valued under $175 will be subject to current standard published shipping rates. For orders over $100 shipping will be paid by seller with the exception of special delivery, truck shipments and/or air shipments requested by such MAGNET Facility.  Such special delivery, truck shipments  and/or air shipment charges shall be prepaid by Seller and invoiced to MAGNET Facility for such MAGNET Facility's payment pursuant to the payment terms set forth in the agreement.  MAGNET Facility shall have ten (10) business days from the date of delivery in which to inspect the Product(s) and to accept or reject such Product(s).  In the event the MAGNET Facility, after such inspection, rejects the Product(s) due to discovery of broken or damaged Products or the packages containing Products, the MAGNET Facility shall have the right to return the damaged Product(s) for, at the MAGNET Facility's option, full credit of purchase price or replacement of the damaged Product(s).
This language is standard on all AliMed contracts.
Revised & accepted by MAGNET May, 2007
Payment Terms:
Net 30 days
Contract Notes:
Complete catalog available "on-line" – facility can establish "individualized product/price files" with AliMed
New Business Software – New Catalog Numbers – Discontinued Items Nov 2015 (PDF)
No-Lift Patient Transfers Feb 2014 (PDF)
Product Announcement for Arista Surgical and Miltex Meisterhand Surgical/Floor Instruments (PDF)
---
To view pricing you must be logged in as a MAGNET GROUP Facility Member.
Not yet a MAGNET GROUP Facility Member? Not sure?
Complete and submit a simple, no obligation Participation Agreement (PA) Form.
Do you need MAGNET GROUP GPO Designation Form?
Download Designation Form (PDF)