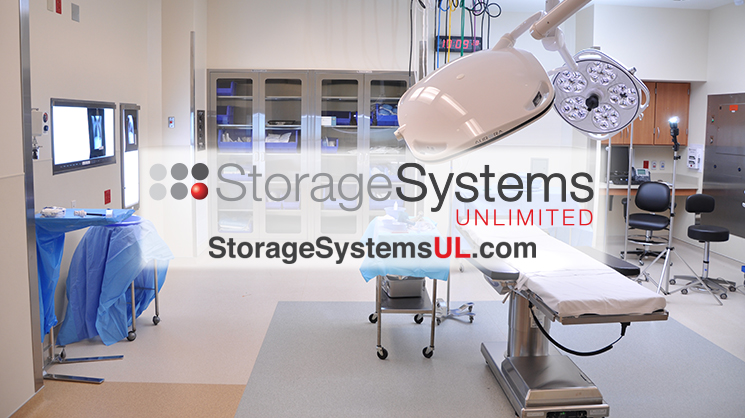 Storage Systems Unlimited (#2297)
One-Stop Shop
Franklin, TN-based Storage Systems Unlimited has 40+ years of experience in the storage products industry. Storage Systems represents industry-leading manufacturers of shelving, carts, cabinets, bins, material handling products, and more that are designed to store, organize, and manage items of all sizes. Through a One-Stop Shop approach, Storage Systems can source products from multiple vendors through one point of contact and on a single invoice, resulting in both saving time and saving money for customers. In addition, Storage Systems can provide installation on every product sold, planning and design services, and project management. New construction, renovations, expansions and product add-ons are areas in which Storage Systems excels.
Products:
Carts – Anesthesia Carts, Emergency Carts, Patient Bedside Carts, Medication Carts, Computer Carts, Surgical Case Carts, Isolation Carts, PPE Carts, Linen Carts, Tablet-Charging Carts, Bulk Carts, Catheter Carts, Utility Carts, Information Technology Carts, Supply Carts, Foodservice Carts, Housekeeping Carts, Bin Carts and more
Cabinets – OR Cabinets, Stainless Steel Cabinets, Catheter Cabinets, Endoscopy Cabinets, Flammable Cabinets, Key Cabinets, Bin Cabinets, Bulk PPE Storage Cabinets and more
Bins and Panels – Pharmacy Bins, Hanging and Stacking Bins, Bin Cabinets, Tip-Out Bin Systems, Louvered Panels, Wire Louvered Panels, Wire Bins, Louvered Panel Accessories, Bin Labels, Bin Dividers, Bulk Bins and Bulk Totes, and more
Shelving – Wire Shelving, Top Track Shelving and Bottom Track Shelving, File Storage Shelving, Stainless Steel Shelving, Mobile Shelving, Library Shelving, Wall-Mount Shelving. Kitchen Shelving, Warehouse Shelving, High Density Shelving, Archive Shelving, and more
Stainless Steel – Stainless Steel Cabinets, Stainless Steel Carts, IV Poles, Kick Buckets, Mayo Stands, Instrument Tables, Back Tables, and more
Material Handling and Miscellaneous – Mailroom Furniture, Wheelchairs, Wheelchair Docking Stations and Wheelchair Corrals, PPE Vending Machines, Scales, Pallet Racks, Pallet Jacks, Pallet Trucks, Mezzanine Decking, Dunnage Racks, PPE Dispensers, Waste Cans and Biohazard Cans, Lockers and Locker Benches, COVID-19 Plexiglass Separators, Ice Machines, Refrigerators, and more
Whether your business is foodservice or commercial, industrial or healthcare, Storage Systems can help you put Everything In Its Place. Learn more and request a quote online at storagesystemsul.com or call (888) 614-0004.
---
CONTRACT SUMMARY
Products:
Various Manufacturers of Storage Equipment & Infection Control Products
Price Protection:
None
Shipping Terms:
Various Manufacturers of Storage Equipment & Infection Control Products
Payment Terms:
FOB Destination; Freight Prepaid & Added
---
To view pricing you must be logged in as a MAGNET GROUP Facility Member.
Not yet a MAGNET GROUP Facility Member? Not sure?
Complete and submit a simple, no obligation Participation Agreement (PA) Form.
Do you need MAGNET GROUP GPO Designation Form?
Download Designation Form (PDF)