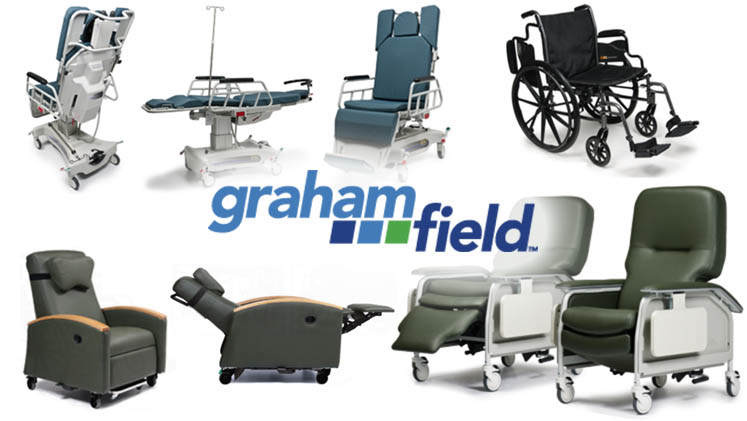 GF Healthcare Products (#3275)
Graham-Field is a leading manufacturer of medical products serving the health care industry. Graham-Field's wide array of over 50,000 items across the entire care continuum – into hospitals, surgery centers, physician offices, extended care facilities as well as homecare. Graham-Field's well-known brand names include Hausted, Surgical Stretchers & Chairs and Specialty Procedure Chairs; Lumex Clinical Care Recliner Seating; Hausted Medical and Laboratory Furniture and Everst & Jennings Wheelchairs. Our Made in USA strategy is to increase the number of products manufactured in the United States to provide customers with more choices and faster delivery times.  Graham-Field is headquartered in Atlanta, GA with manufacturing facilities located in Doravlee, GA, High Point, NC, Warwick, RI, and Fond-du-lac, WI.  To provide timely delivery, distribution facilities are located in Doraville, GA, Hazelwood, MO, Fond-du-lac, WI, High Point, NC and Pico Rivera, CA. 
---
CONTRACT SUMMARY
Products:
Hausted Stretchers, Procedural Chairs & Exam Room Furniture, Lumex Recliners & Overbed Tables, E&J Wheelchairs
Price Protection:
None
Shipping Terms:
FOB Destination; Freight Prepaid
Payment Terms:
Net 30 Days with Approved Credit
---
To view pricing you must be logged in as a MAGNET GROUP Facility Member.
Not yet a MAGNET GROUP Facility Member? Not sure?
Complete and submit a simple, no obligation Participation Agreement (PA) Form.
Do you need MAGNET GROUP GPO Designation Form?
Download Designation Form (PDF)