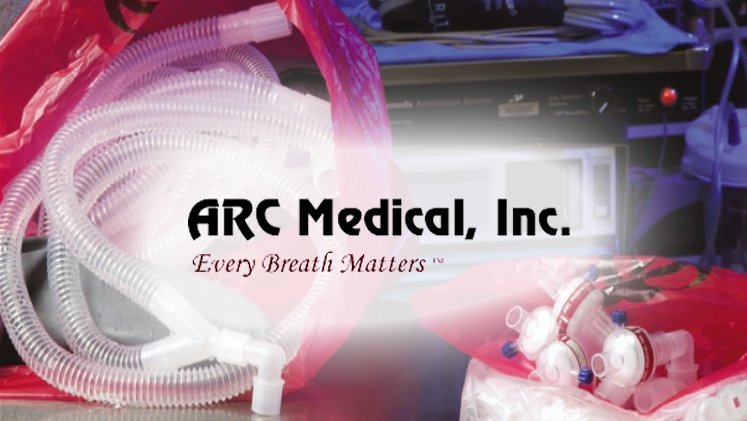 ARC Medical, Inc. (#1854)
ARC Medical Inc., was founded in 1990 by Hal Norris. We are committed to providing the Anesthesia, ICU and Emergency areas of hospitals as well as Long Term Acute Care Hospitals and Same Day Surgery Centers with safe and effective products with emphasis on quality. Outside the hospital arena, we provide excellent products for patients in the Home Care market. Our products are not "me too" devices.
The initial product introduced is the highest performing Hygroscopic Condensing Humidifier (HME), the ThermoFlo™ System, available anywhere in the world. The introduction of these devices for the ICU and LTAC usage revolutionized the delivery of humidification to the ventilator dependent patient.
ARC Medical products consist of Class I and Class II filter and non-filter HME/HCH devices for use in ICU, LTAC and anesthesia. All of these HME/HCH devices meet and exceed the guideline established for humidification of the respiratory tract when the upper airway is bypassed (AARC Clinical Practice Guidelines).
---
CONTRACT SUMMARY
Products:
Thermoflo Ventilator Filter System, Circuit/Guard Anesthesia Filter System, Face Masks & Circuits
Price Protection:
None
Shipping Terms:
FOB origin; freight prepaid & added
Payment Terms:
2% 10, 1% 11-30, net 30 days
---
To view pricing you must be logged in as a MAGNET GROUP Facility Member.
Not yet a MAGNET GROUP Facility Member? Not sure?
Complete and submit a simple, no obligation Participation Agreement (PA) Form.
Do you need MAGNET GROUP GPO Designation Form?
Download Designation Form (PDF)